rotary club of christchurch south club activities
Rotary Club of Christchurch South
The Christchurch South Rotary Club is involved in a wide variety of activities. Some are fund-raising, some are social. Read about the individual activities below to see what we have been up to. Visit our
Community Support
page to see how we contribute to the community.
Annual Changeover Event - New President, New Paul, Harris Fellow, Three Foundation Members Recognised for 60 Years' Service and a New Member Welcomed
On 26th of June, the Club celebrated the 2016/2017 Rotary year under President Mel Opie and welcomed new President Keith Gunasekara, both shown here (Keith has chain of office - click to expand). This celebration took place at College House where about 60 members, partners and friends enjoyed an excellent meal and a night of fellowship together. Lew Brown was awarded a much-deserved Paul Harris Fellowship, and it was a moving moment when Foundation Members Bernie Lawrence and Jack McKessar were presented with letters of commendation from Rotary International President Ian Riseley for their 60 years of service to Christchurch South Rotary. At a separate ceremony, Foundation member Ray Newton was presented with the same letter at Wesley Care where he resides. To top the night off it was great to welcome Chris Ayray as a new members of our club. For a full report, see the Club Bulletin or
click here
to view more photographs.
Tour of Christ's College a Fascinating Look Beyond the Rolleston Ave Gates
On 26th April Rotary Club members and partners were treated to a guided tour of Christs College as part of the "club Day" organised by President Mel and Doug Johns. The picture show our three guides including club member Graham Foulds (centre). After the tour most of us retreated to the newly opened Bunsen Cafe in the Arts Centre. Later in the day we had an informal club night at Beck's Ale House in Beckenham. See the
Club Bulletin
for a full report.
Guess Who's Coming to Dinner a Fun Night Which Raised Some Funds Too.
Our annual Guess Who's Coming To Dinner event on the 25th of March was the usual success with surprise guests enjoying the opportunity to spend time to really get to know each other over a meal at various homes round the Club. There were 34 participants hosted in 5 houses. The photo (click to enlarge) shows the group at Sarita and Stuart McLean's. The event raised approximately $550 which is being given to enable a person suffering from MS to participate in the 'Oceans of Hope' yacht cruise around Croatia. . Thanks to Robin McKinney for organising the night.
The Fun of a Night of Gilbert and Sullivan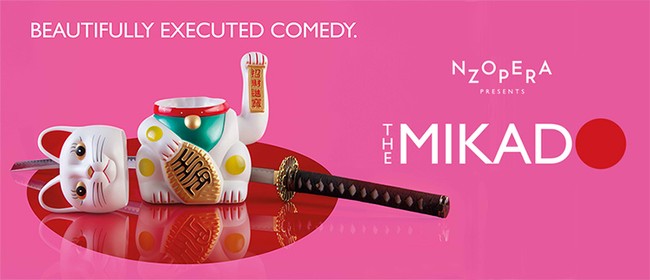 Our enthusiastic President, Mel, organised a night at the Mikado attended by about 25 people who enjoyed a great night of music, humour and frivolity. A number of those attending enjoyed a meal beforehand at the nearby Sampan Restaurant.
Club Picnic at Whitecliffs Domain
On Sunday 12th of February members of the club enjoyed a picnic outing at the Whitecliffs Domain on the banks of the Selwyn River inland for Darfield. Read the
Club Bulletin
for a detailed account of proceedings or
click here
to see some photos.
Annual Club Christmas Event
On 14th December, the club held a very enjoyable Christmas Event in the Garden Room at the Cashmere Club. As well as a night of fun and fellowship, our President Elect Nominee for the 2018/2019 year (Kim Tanner) was announced, a Paul Harris Fellowship was awarded to Sarita McLean and an Honorary Membership was bestowed on Robin Redpath.
Read the Club Bulletin
for a more detailed report of the evening and
click here
to see some photos.
Being "Bouncers" at the Members' Tent at the Canterbury A&P Show Raises $675
We have assisted in various ways at the
Canterbury A&P Show
over the years and we were pleased to raise a small amount for our Charitable Trust by having people supervise the entrance to the Members Tent during Show Week in November 2016.
Chicken Manure Fund-Raiser Raises $14,600
Gardeners were out in force on Saturday 27 August 2016, Sunday 28 August and Saturday 3 September to snap up chicken manure at the street sales days at selected sites around the city for our annual chicken manure fund raiser. A major portion of the sales came from pre-sales which were delivered by our members to homes in the city and surrounding areas. This was a major activity for the Club where we raised about $14,600 in support of our charitable activities.
Here (click image to enlarge) we see the partially bagged 40 tonnes of chicken manure at the A&P Show Grounds awaiting delivery to the sales points round the city.
The very last bag is filled. We had invaluable help in the bagging process from the rowing club at St Thomas College.